Made by joining two or more single V-Belts with a permanent, high strength tie band. PowerBand belts prevent turn-over or jumping off the sheave problems associated with heavily shock loaded drives using individual belts. PowerBand belts use the same system of size and length designation as individual belts.
Hi-Power® II PowerBand® Belts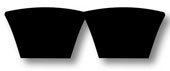 Super HC® & Super HC®Molded Notch PowerBand® Belts

Predator® PowerBand® Belts

Micro-V® Belts
Example: 780L12 Belt
[1] An effective length of 78″
[2] L cross Section
[3] 12 ribs wide
J Section

K* Section

L Section

M Section

Polyflex® JB® Belts
Example: 3/7M850 Belt
[1] 3 strands
[2] 7M profile
[3] An effective length of 850mm
* click image to the right for sizes
Do not use Gates belts, pulleys, or sprockets on any aircraft propeller or motor drive systems or in-flight accessory drives. Gates products are not designed or intended for aircraft use.