Stocking Status: Special Order - Typically ships in 5-10 business days
Will drop ship from manufacturer in 1 business day with Next Day Air or 2nd Day Air Shipping Selection
Will drop ship from manufacturer in 1-2 business days if order total is over $500.00
Buy 10 for

$79.14

each and save

5

%
Buy 25 for

$77.06

each and save

8

%
Buy 50 for

$74.98

each and save

10

%
| | |
| --- | --- |
| SKU | 9003-8137 |
| Weight | 1.550000 |
| Length (inch) | 140 |
| Length Type | Outside Circumference |
| Top Belt Width per strand (inch) | 0.66 |
| Nominal Thickness (inch) | 0.41 |
Understanding the Part Number
– The stands for a "" section v-belt. This is considered a "Classic" v-belt style that has a top width of 21/32 (0.656) inches, but is commonly referred to as a 5/8 (0.625) inch belt. The thickness of the belt is 13/32 (0.406) inches.
– inches is the inside circumference of the belt. For -section v-belts, the outside circumference is found by adding inches to the inside length of the belt. So, the outside circumference of the belt is 140 inches (+).
Specifications
Dimensions:
| | |
| --- | --- |
| Length (inch) | 140 |
| Length (mm) | 3556 |
| Length Type | Outside Circumference |
| | |
| --- | --- |
| Top Belt Width per strand (inch) | 0.66 |
| Top Belt Width per strand (mm) | 17 |
| Nominal Thickness (inch) | 0.41 |
| Nominal Thickness (mm) | 10 |
Design:
Flex-Weave Cover – The

Gates

B137PB

v-belt is a wrapped belt that features a patented single layer fabric construction for longer cover life. The cover protects the belt core from oil dirt and heat. The wrapped cover also makes the belt suitable for clutching applications.
Flex-Bonded Cords – The Hi-Power II belt line utilizes a proprietary core material blend that strongly bonds the polyester cords to the body of the belt, resulting in uniform load distribution and absorption of bending stress without cord deterioration.
Gates Curves – The belt cross-section has been optimized to provide proper cord support and full contact with the pulley to provide uniform loading, uniform wear, and increased belt life.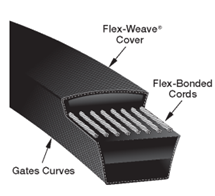 Recommended Applications:
Gates Hi-Power II B137PB v-belts are high quality, heavy duty belts that can be used in a variety of industrial and agricultural power transmission applications. These belts are used in HVAC applications, conveyor systems, centrifugal pumps, air compressors, crushers, and more.
Matching / Multi-Belt Drives:
Part of the V80 Matching System - Gates Hi-Power II B137PB v-belts can be used individually in a single vbelt drive or can be used in sets of 2 or more belts for higher horsepower applications. All belts in a multiple belt drive must be within a certain length tolerance in order for the belts to work together to provide the full design horsepower. In the past, manufacturing tolerances were wider and each belt was assigned a match number that indicated its exact length within the manufacturing tolerance. Gates invested heavily to reduce manufacturing tolerances. The result was the V80 matching system that ensures that every B137PB belt can be used in a matched set, regardless of batch or lot. An alternative to using a set of individual belts is to use a joined or banded belt such as the Gates B-Section Hi-Power II PowerBand belt.
Requirements Met:
RMA oil and heat resistant standards.
RMA static conductivity requirements.
Similar Products
Similar Sizes:
Next Size Narrower: (Note: Belt will sit lower in the pulley, so a shorter belt might be needed)
Next Size Wider: (Note: Belt will sit higher in the pulley, so a longer belt might be needed)
Same Size – Different Product Line:
| Part Number | Price | Horsepower Rating (1) on a 6" Pulley | Horsepower Rating (1) on a 4" Pulley | Shock Load | Backside Idler | Clutching |
| --- | --- | --- | --- | --- | --- | --- |
| Gates B137PB | $83.31 | | | | | |
| Gates | | | | | | |
| Gates | | | | | | |
| Gates | | | | | | |
| Gates | | | | | | |
(1) Horsepower rating calculated using Gates Design Flex software for a single belt at 1750 rpm and a 1:1 speed ratio on a 6" pulley
(2) Horsepower rating calculated using Gates Design Flex software for a single belt at 1750 rpm and a 1:1 speed ratio on a 4" pulley
Compatible Pulleys / Sheaves:
Recommended Pulleys or Sheaves for Light Duty Applications Recommended Pulleys or Sheaves for Heavy Duty Applications
Competitive Cross-Reference:
AC Delco B137PB fan belt

Balflex Classic B137PB

Bando Power King B137PB

Bestorq Wrapped B137PB

Browning Super Gripbelt B137PB

Carlisle Super II B137PB

Continental B137PB V-Belt

ContiTech (Conti) B137PB

Dayco Gold Label AP55

Dayton B137PB fan belt

Dodge AP55

Dunlop B137PB

Fenner Classic B137PB
Goodrich B137PB vbelt

Goodyear Hy-T Plus B137PB

Grainger

Hutchinson Conventional Wrapped B137PB

Jason Industrial Unimatch Multi-Plus B137PB

Maska Classical VBB137PB

Mitsuboshi Red Label B137PB

Optibelt VB B137PB

Pirelli B137PB veebelt

Pix B137PB vbelt

TB Woods Conventional B137PB

Thermoid Prime Mover B137PB

Thermoid Select B137PB